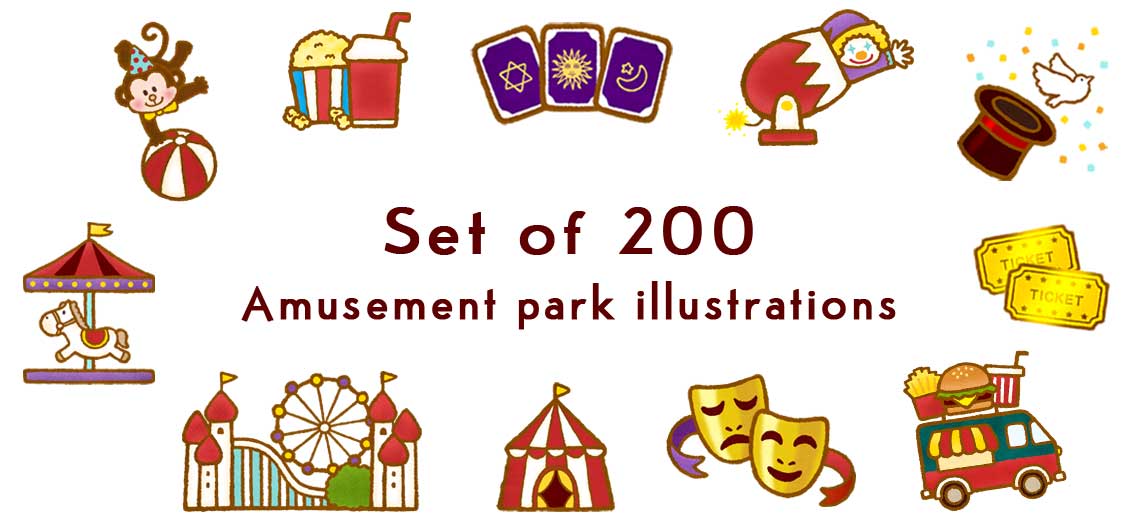 Thank you so much for your interest in RIKA's artworks.
You can buy and download many of my illustrations and use them for your design purposes.
Free version of Amusement park illustrations
Contents
The 200 illustrations are divided into 4 pages (the following ①〜④).
③ Magic, movie, fortune telling, tickets  105〜160
Rides and attractions  1〜54
Castle, roller coaster, ferris wheel, swing ride, haunted mansion, swan boat, water slider
Symbols of amusement park and castle
Roller coaster
Ferris / Big wheel and pirate ship
Swing ride and plane ride
Merry go round and coffee cup
Go kart and train
Haunted mansion
Swan boat and water slider
Garlands and balloons
③ Magic, movie, fortune telling, tickets  105〜160
Price and payment method
Price:1,900 JPY (set of 200)

Please note that the illustrations are NOT returnable or refundable after purchase.

Payment method:Credit card via Stripe (https://stripe.com)
Available Credit cards:VISA, MasterCard, American Express


Your credit card details are encrypted and securely stored by Stripe and are never entered or stored in RIKA MUSEUM.
Images Specifications
Total file size : 700MB
Format:PNG
Background : transparent
Color profile : sRGB
Resolution : 300ppi
Basic canvas size : 15cm x 15cm (vary a little by illustration)
The download files have no watermark.
Please decompress the downloaded file before using it.
Other products
Webbook (free)