→ Klicken Sie hier für die deutsche Version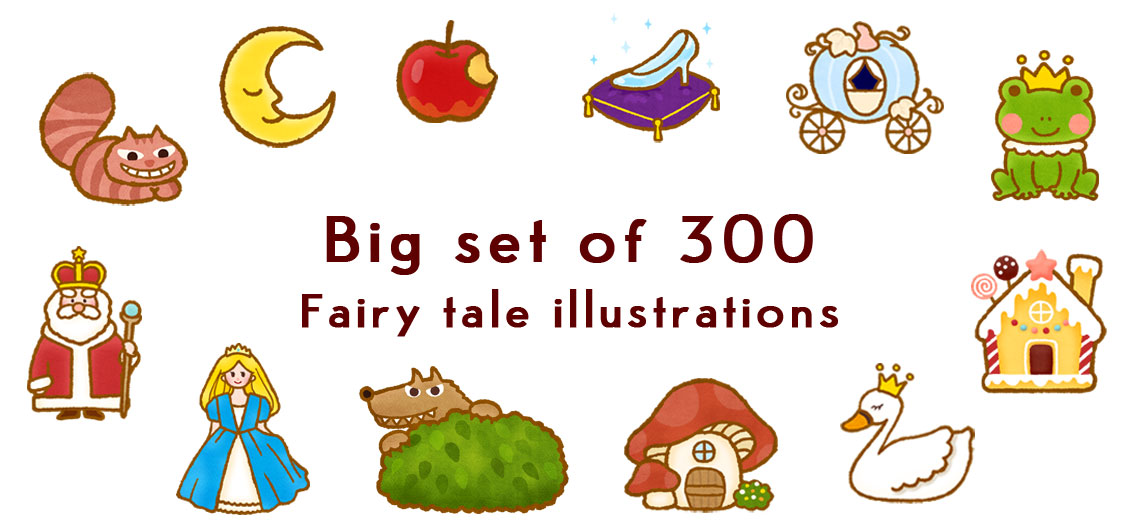 Thank you so much for your interest in RIKA's artworks.
You can buy and download many of my illustrations and use them for your design purposes.
Free version of Fairy tale illustrations
Contents
The 210 illustrations are divided into 4 pages (the following ①〜④).
① Brothers Grimm or Charles Perrault  1〜54
② King, Queen, Prince, Princess  55〜104
③ Andersen, Aesop, Russian folk tales  105〜156
④ Castle, houses, soldier, some items in fairy tale  157〜210
Brothers Grimm and Charles Perrault  1〜54
Little Red Riding Hood
Once upon a time, there lived a little sweet girl and she lived with her mother.
One day, her mother said to her: "Here is a piece of cake and a bottle of wine. Take them to your grandmother because she's sick. . .
Cinderella
Once upon a time, there was a beautiful girl named Cinderella.
Cinderella, who lost her mother at an early age, was treated like a servant by her evil stepmother and two stepsisters. . .
The Sleeping Beauty
Many years ago, a beautiful girl was born to the king and queen.
12 fairies were invited for the celebrations, and they brought with them special gifts.
But an old wicked fairy who was not invited to this party appeared and cursed the little princess. . .
Snow White
Long ago, in the middle of winter, the snowflakes were falling like feathers from the sky, and a queen sat at her window sewing, and her embroidery-frame was of ebony. . .
Hansel and Gretel
There once lived a poor woodcutter, his wife and two children named Hansel and Gretel.
The woodcutter and his wife could not take care of their children any more. So they decided to take the children into the deep forest and leave them. . .
Rapunzel
There were once a long-childless couple who had prayed to God every day to bless them with a child.
One day they found that God had answered their prayer.
They were so happy but alas the wife fell ill. She would eat nothing and the husband was worried that she would waste away.
They had a little window at the back of their house from which a neighbor's garden could be seen, which was full of herbs called Rapunzel.
"I will feel better if I can eat that." she said. . .
Musicians of Bremen
Once upon a time, there lived a farmer who had a donkey.
This donkey was ill-treated by the owner very long years, and he had lost its strength to work around the farm.
So, he decided to run away and start a long journey. . .
The wolf and the seven goats
Once upon a time, there was a mother goat and she had seven little kids.
One day, she wanted to go to the market to get some food.
So she called all seven to her and said,
"Children dear, I am going into the market. Be on your guard for the wolf. The villain often disguises himself, but you will recognize him at once by his rough voice and his black hand."
The kids said, "Mother dear, we will take care of ourselves. You can go away without any worries."
The mother goat went off to the market and the kids locked the door. . .
The Elves and the Shoemaker
Once upon a time, there lived a kind shoemaker and his wife. Through no fault of his own, they were very poor.
One day, they only had one leather to make one last shoes.
His wife said, "Everything will be alright! Don't worry. You can stitch it tomorrow. " . . .
Puss in Boots
Once upon a time, there were a miller who had three sons.
When the miller died, the three brothers divided their inheritance, the oldest received the mill, the second the donkey and the third the cat.
He said, "I have nothing but this cat! I shall die too!"
The cat said, "Don't worry. I have a good idea! Please give me your boots and a sack."
He gave the cat all that he asked for. . .
Pied Piper of Hamelin
A long time ago, there were too many rats in the town of Hamelin. They were in houses, shops, in every street.
People tried everything to get rid of them but in vain. Even the cats couldn't do anything.
One day, a stranger from a faraway land came to Hamelin. He was dressed in colorful clothes and carried a flute. . .
The Frog prince
Once upon a time, a little princess went out into the forest and sat down by a cool well. She had a golden ball that was her favorite plaything.
She threw it up high, and caught it in the air again and was delighted by all this.
One time the ball flew up very high, and as she stretched out her hand and bent her fingers to catch it again, the ball hit the ground near her and rolled and rolled until it fell right into the water. . .
The golden goose
A long time ago, in a village, there lived a woodcutter and his wife, who had three sons. The first two sons were clever but mean, and the youngest was a little weak but kind.
One day, the eldest son wanted to go into the forest to cut wood, and his mother gave him a beautiful cake and a bottle of wine for his lunch.
When he came to the forest, a little old man appeared and said,
"I'm hungry and thirsty. Please give me a little piece of your cake and a sip of your wine.". . .
② King, Queen, Prince, Princess  55〜104
③ Andersen, Aesop, Russian folk tales  105〜156
④ Castle, houses, soldier, some items in fairy tale  157〜210
Price and payment method
Price:1,900 JPY (set of 200)

Please note that the illustrations are NOT returnable or refundable after purchase.

Payment method:Credit card via Stripe (https://stripe.com)
Available Credit cards:VISA, MasterCard, American Express


Your credit card details are encrypted and securely stored by Stripe and are never entered or stored in RIKA MUSEUM.
Images specifications
Total file size : 760MB
Format:PNG
Background : transparent
Color profile : sRGB
Resolution : 300ppi
Basic canvas size : 15cm x 15cm (a little different by illustrations)
The download files have no watermark.
Please decompress the downloaded file before using it.
Other products
Webbook (free)