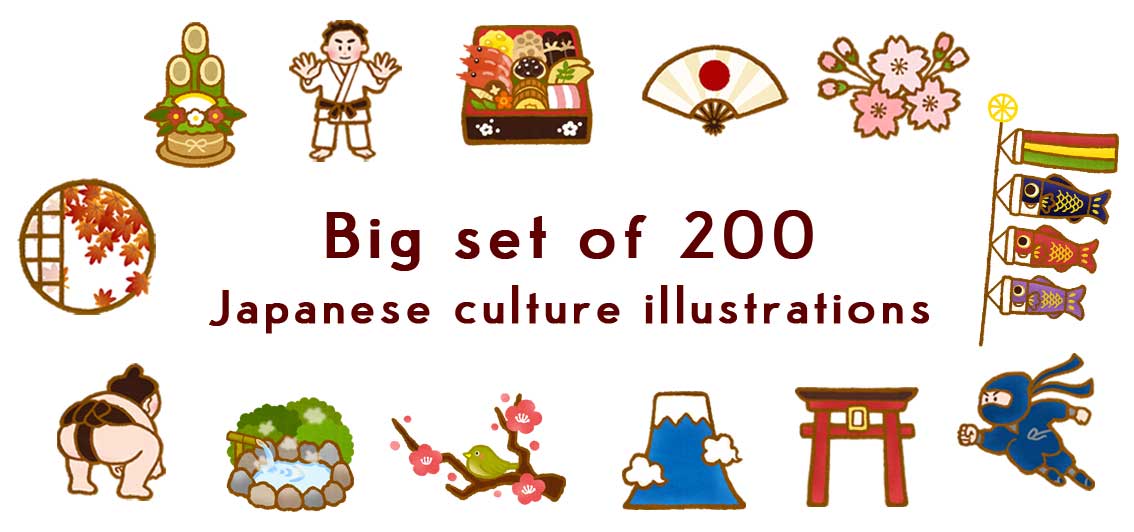 Thank you so much for your interest in RIKA's artworks.
You can buy and download many cute images and use them for design.
I want everyone to know how wonderful Japanese culture is, and I hope my works will be helpful to your projects.
Free version of Japanese culture illustrations
Contents
The 200 illustrations are divided into 4 pages (the following ①〜④).
① Japanese New Year season  1〜19
① Kimono (traditional Japanese outfit)  39〜46
② Japanese annual events  47〜98
③ Shinto shrine, Japanese Mythology, traditional art, hot spring  99〜152
④ Ninja, samurai, martial arts  153〜200
Japanese New Year season 1〜19
The New Year season is the most significant holidays for the Japanese.
Many visit Buddhist temples or Shrines to pray for their happiness of the year.
Kadomatsu : A decoration of pine branches and bamboo, which are placed in front of the house or shops during New Year's holidays, and it is said that this is a traditional way to invite Toshigami (Shinto deity).
Kagami-mochi : Round rice cakes with an orange on top offered to the gods.
Hatsumoude : The event of visiting a shrine or temple for the first time since the start of a New Year.
Omikuji (Japanese sacred lots) : Fortune-telling paper strip at shrine or temple.
Shimekazari : A decoration of straw rope hung over the entrance to a house during New Year's holidays.
Mochitsuki : pounding steamed rice to make rice cake
Toso : New Year's spiced sake.
Shishimai : A traditional Japanese performance in which a imaginary creature (lion was based) costume dances to festival music.
Mochi : rice cake.
Zone : Japanese New Year's soup with rice cake, the seasoning and other ingredients vary regionally.
Osechi-ryori : New Year's special dish: Each ingredient in osechi has meanings, such as good health, good harvest, happiness, prosperity, long life, and so on.
Tako : A flying kite made with paper glued on a bamboo frame, and pictures of warriors or Kabuki actors are drawn on the surface.
Karuta : traditional Japanese playing cards
Nengajo : New Year's greeting cards.
Hanetsuki : A traditional Japanese play similar to badminton that uses wooden boards called "hagoita" and a shuttlecock.
Hanafuda : traditional Japanese playing cards
Lucky charm 20〜38
In Japan, these items are believed auspicious.
Mt. Fuji, taka, nasubi : It is said to be auspicious that one dreams Mt. Fuji, a hawk or an eggplant in the first night of the year.
Uchide-no-kozuchi : A legendary mallet which can tap out anything wished for by shaking.
Maneki-neko : An ornamental beckoning cat, which is believed to draw visitors and customers.
Daruma : A symbol of perseverance and reaching the objective, as it always returns to an upright position when tipped over.
Omamori (lucky charm) : It is available in a temple or a shrine.
Hamaya : a decorative arrow supposed to ward off evil
Ema : A wooden board drawn a picture of a horse, on which people write their wish. It is dedicated to a shrine or a temple.
Tai : Many Japanese people eat sea bream at the New Year. "Sea bream" is "Tai" in Japanese. We associate it with another Japanese word, "medetai," which means "auspicious."
Tsuru (crane) and Kame (tortoise) are taken as lucky animals in Japan.
Hyotan : A gourd is considered good luck item in Japan.
Sho-chiku-bai : In Japan, pine, bamboo and apricot tree are considered to be symbols of good luck and are called sho-chiku-bai for short.
Kouhaku-manju : Steamed buns with sweet red bean paste filling, and celebratory Japanese sweets. It is said that the combination of red and white is auspicious in Japan.
Shichifukujin:The Seven Gods of Good Fortune are believed to arrive on a ship full of treasures and bring people good luck.
Kimono 39〜46
・Kimono is traditional Japanese clothes made out of a roll of cloth. Today, Japanese people wear kimonos during the New Year and at important life events.
Formal Kimono for men imprinted with one's crests on top.
・Tomesode is the prime ceremonial clothing for merried women with family crests at the top and a beautiful design at the bottom worn ceremonially at happy occasions. They are regarded as kimonos of the highest rank and are worn at formal occasions.
② Japanese annual events 47〜98
③ Shinto shrine, traditional art, hot spring 99〜152
④ Ninja, samurai, martial arts  153〜200
Images specifications
Format:PNG
Background : transparent
Color profile : sRGB
Resolution : 300ppi
Basic canvas size : 15cm x 15cm (vary a little by illustration)
Download files have no watermark.
Please decompress the downloaded file before using it.
Price and payment method
Price:1,900 JPY (set of 200)
Total file size : 720MB

Please note that the illustrations are NOT returnable or refundable after purchase.

Payment method:Credit card via Stripe (https://stripe.com)
Available Credit cards:VISA, MasterCard, American Express


Your credit card details are encrypted and securely stored by Stripe and are never entered or stored in RIKA MUSEUM.

Before purchasing, please read Terms and Conditions, Privacy Policy and How to download the product, carefully.
Other products
Webbook (free)