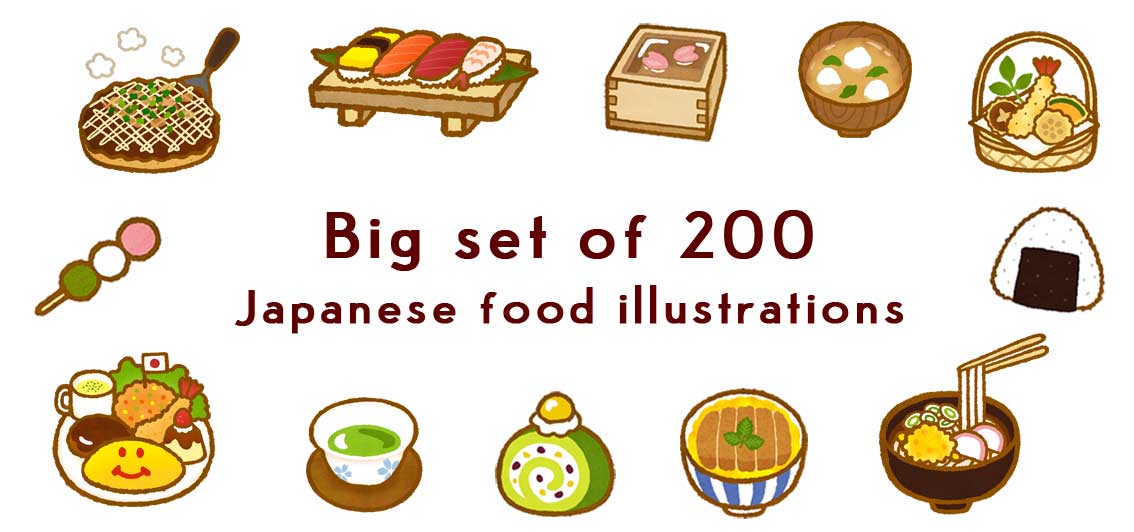 Thank you so much for your interest in RIKA's artworks.
You can buy and download many cute images and use them for design.
I want everyone to know how wonderful Japanese food is, and I hope my works will be helpful to your projects.
Free version of Japanese food illustrations
Contents
"Washoku" is a traditional Japanese cuisine that was registered as UNESCO's Intangible Cultural Heritage in 2013. 
I want you to know how delicious and healthy Washiku is.
The 200 illustrations are divided into 4 pages (the following ①〜④).
① Japanese hot pot (sukiyaki, shabu-shabu)  46〜50
② Rice dishes, Japanese noodles  51〜99
③ Fall delicacies, Japanese seasoning, green tea, sake  100〜154
Sushi
Sishi is one of Japan's representative dishes, made by combining vinegared rice with raw seafood.
Today, when one says "sushi," it generally refers to nigiri-zushi. Nigiri-zushi is a small vinegared rice ball with sliced fish on top.
Nigiri-zushi 1〜31
Norimaki, inari-zushi 32〜34
Temaki-zushi, Temari-zushi 35〜38
Raw fish dishes 39〜40
Assorted sashimi and kaisendon (sashimi rice bowl)
Tempura 41〜45
Tempura is a Japanese fritter-like dish made by cutting seafood and vegetables into the proper sizes, dipping them in a batter of wheat flour dissolved in water to give them a thin coating, and deep-frying them in oil.
Tempura is eaten with rice or on top of "soba" (buckwheat noodles).
Nabe : Japanese hot pot dish 46〜50
Nabe is a one-pot cuisine that is similar to stew. Nabe is cooked at the table, a number of people sit around a heated pot and ladle cooked ingredients and soup into their own bowls.
Shabu-shabu is a Japanese one-pot dish made at the table by cooking thinly sliced meat, especially beef, and vegetables in boiling broth quickly. It is eaten with a soy- or sesame-based sauce.
② Rice dishes, Japanese noodles  51〜99
③ Fall delicacies, Japanese seasoning, green tea, sake  100〜154
Images specifications
Format:PNG
Background : transparent
Color profile : sRGB
Resolution : 300ppi
Basic canvas size : 15cm x 15cm (vary a little by illustration)
Download files have no watermark.
Please decompress the downloaded file before using it.
Price and payment method
Price:1,900 JPY (set of 200)
Total file size : 700MB

Please note that the illustrations are NOT returnable or refundable after purchase.

Payment method:Credit card via Stripe (https://stripe.com)
Available Credit cards:VISA, MasterCard, American Express


Your credit card details are encrypted and securely stored by Stripe and are never entered or stored in RIKA MUSEUM.

Before purchasing, please read Terms and Conditions, Privacy Policy and How to download the product, carefully.
Other products
Webbook (free)