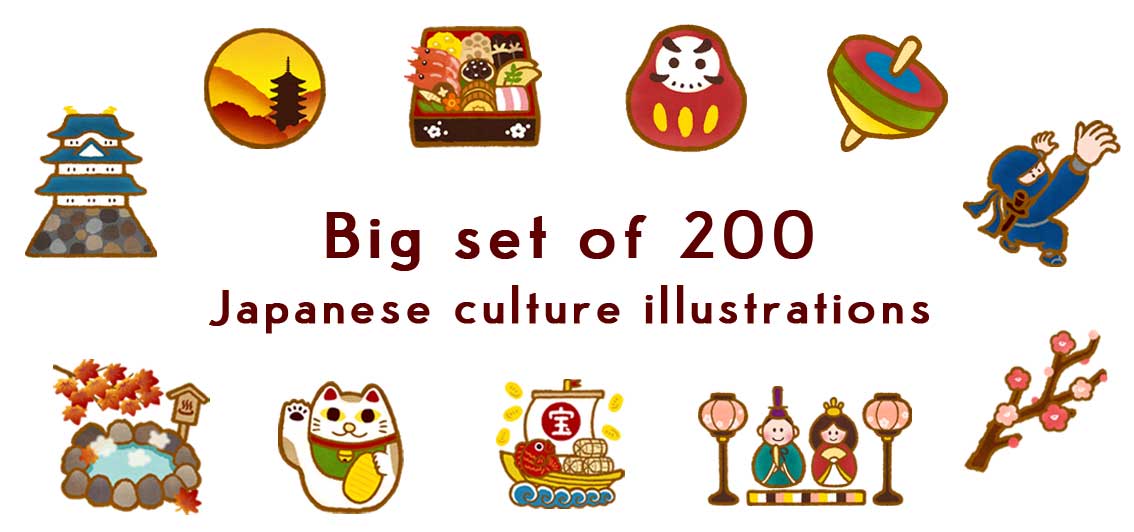 You can buy and download many cute images and use them for design.
Free version of Japanese culture illustrations
Contents
The 200 illustrations are divided into 4 pages (the following ①〜④).
② Annual events in spring 47〜65
② Annual events in summer 66〜85
② Annual events in fall / autumn 86〜95
② Annual events in winter 96〜98
① Japanese New Year, Lucky charm, Kimono  1〜46
③ Shinto shrine, traditional art, hot spring  99〜152
④ Ninja, samurai, martial art  153〜200
Annual events in spring 47〜65
Setsubun, Girl's Festival, Cherry-blossom viewing, the Children's Day
Setsubun
Setsubun refers to the day before risshun, which is the beginning of spring. It usually falls on February 3rd.
People scatter soybeans as saying "Oni ha soto, Fuku ha uchi". In Japanese, the word "Oni" means devil or demon, "Fuku" means lucky.
Hina-matsuri (the Girl's festival)
Hina-matsuri is also called Momo-no-sekku, is an event to celebrate young girls' growth and pray for happiness.
At Hina-matsuri, hina dolls are displayed, and a special sake, chirashi-zushi (traditional dishes like scattered sushi, rice in a sushi tub with a variety of ingredients sprinkled on top), Hishimochi (lozenge-shaped rice cakes with three layers of red, white, and green), and hina-arare (bite-sized sweet rice crackers) are prepared.
White sake is a special sake for the Girl's/Doll's festival.
Cherry blossom viewing
Tango-no-sekku (Children's day)
Tango-no-sekku (the Boys' Day) is a Japanese annual event, expressing hope that each boy in the family will grow up healthy and strong.
Families with boys celebrate the day by putting up koinobori (carp streamers) outside of their homes and displaying kabuto (a warrior helmet) in the room and eat kashiwa-mochi (rice cakes wrapped in an oak leaf) or chimaki (steamed rice dumplings wrapped in bamboo leaves).
Ajisai and aomomiji
In Japan, there is a season called "Tsuyu", which means "rainy season", and
beautiful hydrangea is the symbol of the season.
Annual events in summer 66〜85
Tanabata (Star Festival), Japanese summer festival, Obon festival, Yukata
Natsu-matsuri (summer festival)
Obon
Obon holidays: people have custom to pay a visit to their family's graves.
Traditionally, obon lanterns are placed inside the house or in front of houses to guide the ancestors' spirits.
Some Japanese make a horse out of a cucumber and a cow out of an eggplant during Obon holiday.
Annual events in Fall / Autumn 86〜95
・Otsukimi is a seasonal festival to enjoy viewing the moon on the night of August 15th. In Japan, people decorate with silver grasses and offer rice dumplings to the moon.
・Momiji-gari (autumn foliage viewing) is a popular event among the Japanese. From the end of October through the beginning of December, when Japanese maple leaves turn red or yellow, people go out to the countryside to enjoy its beauty.
Shichi-go-san
Shichigosan means "seven-five-three", on November 15th, three-year-old boys and girls, five-year-old boys and seven-year-old girls go to a shrine to pray for their happiness as they grow up.
Annual events in Winter 96〜98
・Joya-no-kane means striking a temple bell, which is rung one hundred and eight times around midnight on New Year's Eve.
It is said that a human being has 108 evil thoughts, the ringing of bells can remove that.
・Toshikoshi-soba (buckwheat noodles) is customarily eaten on New Year's Eve.
In Japan, soba symbolizes a long life, because it is long in shape.
① Japanese New Year, Lucky charm, Shinto shrine 1〜46
③ Shinto shrine, traditional art, hot spring 99〜152
④ Ninja, samurai, martial arts  153〜200
Images specifications
Format:PNG
Background : transparent
Color profile : sRGB
Resolution : 300ppi
Basic canvas size : 15cm x 15cm (vary a little by illustration)
Download files have no watermark.
Please decompress the downloaded file before using it.
Price and payment method
Price:1,900 JPY (set of 200)
Total file size : 720MB

Please note that the illustrations are NOT returnable or refundable after purchase.

Payment method:Credit card via Stripe (https://stripe.com)
Available Credit cards:VISA, MasterCard, American Express


Your credit card details are encrypted and securely stored by Stripe and are never entered or stored in RIKA MUSEUM.

Before purchasing, please read Terms and Conditions, Privacy Policy and How to download the product, carefully.
Other products
Webbook (free)