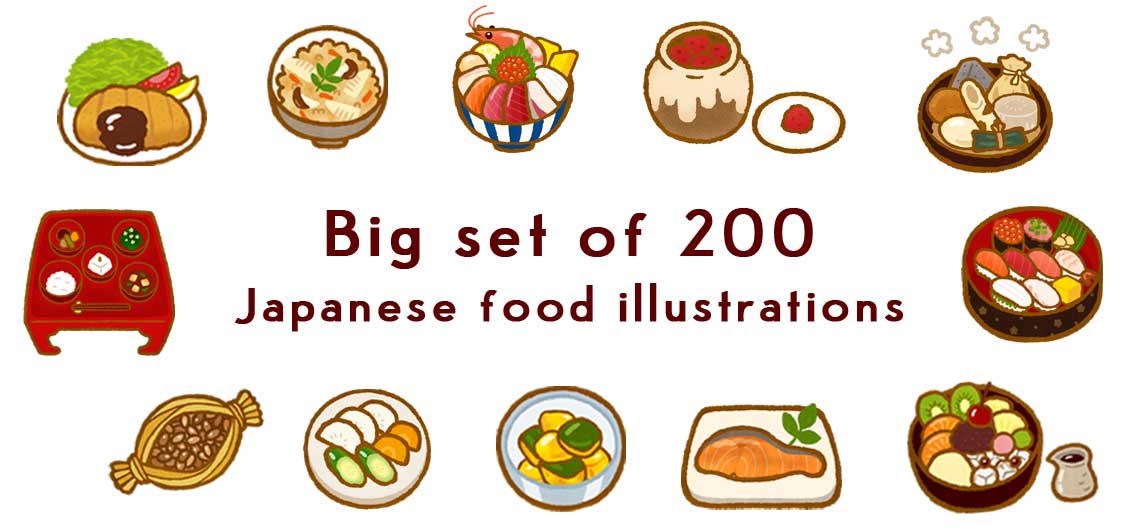 You can buy and download many cute images and use them for design.
Free version of Japanese food illustrations
Contents
The 200 illustrations are divided into 4 pages (the following ①〜④).
① Sushi, tempura, Japanese hot pot  1〜50
② Rice dishes, Japanese noodles  51〜99
④ Japanese sweets, snacks   155〜200
Fall delicacies  100〜115
In Japan, it is said that fall is the best season to have a good appetite.
In the season of fall, there are many delicious seasonal foods like pumpkin, sweet potatoes, chestnuts, mushrooms, apples, etc.
Samma (Pacific saury) is one of the fish associated with fall in Japan.
It is commonly eaten grilled with soy sauce and grated daikon radish.
Japanese seasoning   116〜123
Shoyu (soy sauce) is made by fermenting soybeans and wheat and is one of the essential seasonings for Japanese cuisine.
Miso is fermented soybeans with rice malt and salt.
Green tea, sake  124〜134
Sake is a Japanese alcoholic beverage made from fermented rice.
Konamono (wheat dishes)  135〜137
Konamono is a collective term for snacks made from a batter of wheat flour dissolved in dashi soup stock or water and mixed with various ingredients.
Takoyaki is made by pouring a batter of wheat flour and water into depressions on a special takoyaki pan, adding boiled octopus, red pickled ginger, bits of fried batter, and other ingredients, and baking them into round shapes.
Okonomiyaki is a Japanese-style savory pancake made by adding meat, shrimp, squid, cabbage and other ingredients.
Bento (Japanese lunch-box)  138〜141
Yakitori and oden  142〜149
New Year dishes  150〜152
Chopsticks  153〜154
① Sushi, tempura, Japanese hot pot  1〜50
② Rice dish, Japanese noodles  51〜99
④ Japanese sweets, snacks  155〜200
Images specifications
Format:PNG
Background : transparent
Color profile : sRGB
Resolution : 300ppi
Basic canvas size : 15cm x 15cm (vary a little by illustration)
Download files have no watermark.
Please decompress the downloaded file before using it.
Price and payment method
Price:1,900 JPY (set of 200)
Total file size : 700MB

Please note that the illustrations are NOT returnable or refundable after purchase.

Payment method:Credit card via Stripe (https://stripe.com)
Available Credit cards:VISA, MasterCard, American Express


Your credit card details are encrypted and securely stored by Stripe and are never entered or stored in RIKA MUSEUM.

Before purchasing, please read Terms and Conditions, Privacy Policy and How to download the product, carefully.
Other products
Webbook (free)