→ Klicken Sie hier für die deutsche Version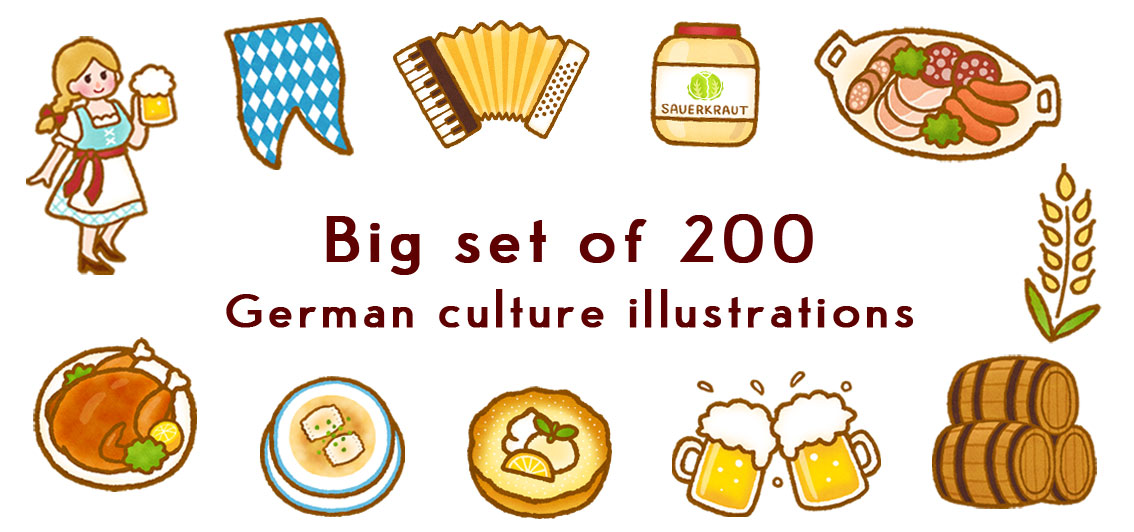 You can buy and download many cute images and use them for design.
Free version of German culture illustrations
Contents
The 200 illustrations are divided into 4 pages (the following ①〜④).
① Beer, sausages, Oktoberfest  1〜57
② German food and bread   58〜112
④ Famous historical buildings, great people, national costume  153〜200
The titles of the following images are file names.
ö → oe
ä → ae
ü → ue
Imbiss(german sausage stand) 113〜115
Wine and cheese  116〜129
Sweets  130〜152
Schwarzwälderkirschtorte (Black Forest cake): a very famous cake that uses a special cherry from the "Black Forest" in Baden-Württemberg.
A simple recipe combines rich chocolate cake layers with fresh cherries, cherry liqueur, and whipped cream frosting.
Apfelstrudel : a traditional Viennese strudel with an apple filling inside.
Sachertorte : a world-famous chocolate cake or torte of Austrian origin, invented by Franz Sacher in 1832.
The original Sachertorte recipe is served in the "Hotel Sacher" in Vienna and Salzburg.
Baumkuchen : layered, high, cylindrical cake made of sponge cake
Prinzregententorte: Bavarian torte, consisting of at least six thin layers of sponge cake with chocolate buttercream and a topping of apricot jam
Frankfurter Kranz (Frankfurt Crown Cake): ring-shaped butter cream cake
Eierschecke: confectionery speciality from Saxony and Thuringia, made from pudding cream, cheese cream and sponge.
Großer Hans : Cake in pudding form, today you take a basic dough made of semolina, milk and eggs.
Depending on the ingredients used, it can be a meal or a dessert.
Rote Grütze (Red fruit jelly): red currants, black currants, strawberries, raspberries, blackberries, black cherries and other red fruits are cooked with sugar, fruit juice or white wine to thicken them.
You can enjoy it with ice cream or biscuits.
Lebkuchen : dark pastries made with syrup or honey and lots of spices.
Schneeball ("Snowball" in English) is a popular pastry in Rothenburg ob der Tauber.
A ribbon-shaped donut dough is rolled in a special device, fried in oil, and coated with chocolate, finely crushed nuts, powdered sugar, etc.
Streuselkuchen : crumble cake
Pharisäer : coffee with sugar and rum. It is usually served with whipped cream.
Stollen is a traditional German bread eaten during the Christmas season. It is made with nuts, dried fruit, and spices, coated in powdered sugar.
① Beer, sausages, Oktoberfest  1〜57
② German food and bread   58〜112
④ Famous historical buildings, great people, national costume  153〜200
Images specifications
Format:PNG
Background : transparent
Color profile : sRGB
Resolution : 300ppi
Basic canvas size : 15cm x 15cm (vary a little by illustration)
Download files have no watermark.
Please decompress the downloaded file before using it.
Price and payment method
Price:1,900 JPY (set of 200)
Total file size : 750MB

Please note that the illustrations are NOT returnable or refundable after purchase.

Payment method:Credit card via Stripe (https://stripe.com)
Available Credit cards:VISA, MasterCard, American Express


Your credit card details are encrypted and securely stored by Stripe and are never entered or stored in RIKA MUSEUM.

Before purchasing, please read Terms and Conditions, Privacy Policy and How to download the product, carefully.
Other products
Webbook (free)